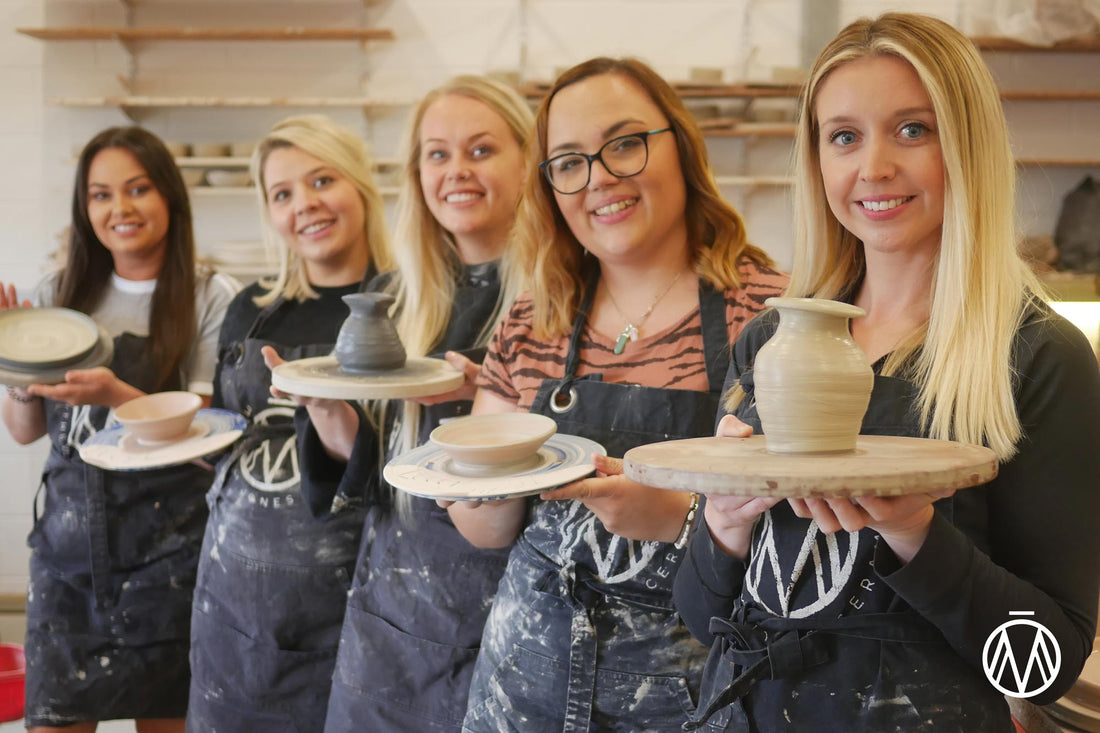 Unleash Your Inner Artist: Explore Our Ceramic Workshops!
Our philosophy
We believe in the power of hands-on learning and the magic that can happen when you immerse yourself in the world of ceramics. In this blog post, we're doing something special - we're showing off some of the amazing pieces our workshop participants have recently created. From pottery that's practically a canvas to beautiful hand-sculpted vases, we can't wait to share the fantastic work that's come out of our recent sessions. So, grab a cup of your favorite beverage, settle in, and let's dive into the world of ceramic artistry and see what our talented students have been up to. 
The Art of Coffee Cups
One of the favorite items for people to make (mine too) is a coffee cup. Many of you have been inspired by the 8oz handless cups I create and serve Big Dog Coffee in.
It's truly remarkable to see the variety of cups you've created – each unique in size, shape, and color. I absolutely adore seeing these cups being used in everyday life, and many of you have shared them on social media. It's wonderful to witness your creativity come to life, and your creations have brought joy to your mornings and coffee breaks.
Upcoming Workshops
As we say goodbye to October, we're excited to welcome a new month with fresh opportunities to explore your creativity. Join us for our upcoming November workshops, where you can create more stunning pieces and enjoy the art of pottery.
We run workshops on Wednesdays, Thursdays, Fridays and Saturdays - a morning session that runs between 11am - 1pm and an afternoon session that runs between 2pm - 4pm. Each workshop has space for up to 4 people and you can take a look at the current availability here - Workshop Calendar.
Meet Our Recent Artists
In October, we had the pleasure of meeting incredible individuals and witnessing their creative journeys.
Ceramic workshops are more than just a creative outlet; they're a whole lot of fun for everyone! Whether you're an individual looking for a new hobby, a family seeking quality bonding time, or a group of friends on the hunt for a memorable activity, ceramics has something for everyone.
As an individual, it's your chance to explore your artistic side and find a sense of accomplishment in crafting something unique from scratch. For families, it's an opportunity to come together, get your hands dirty, and create lasting memories. And for friends, it's a perfect excuse to socialize while sculpting and painting your way to a masterpiece. There's something truly magical about seeing a lump of clay transform into a work of art, and the experience is not only creatively fulfilling but also incredibly enjoyable.
So, whether you're flying solo, bringing your loved ones along, or gathering your friends, ceramic workshops promise hours of creative, relaxing, and joyful entertainment.
Book Your Workshop Today
Ready to embark on your pottery adventure? Join us for our upcoming workshops, meet like-minded creative souls, and craft your very own pottery masterpieces. Secure your spot now and reserve your seat in our November workshops.
Looking for the perfect Winter gift? We also offer the option to gift a workshop - Gift a Workshop
We want to extend our heartfelt gratitude to each and every one of you who joined us in October. Your passion for pottery, your creativity, and your unique contributions to our studio make this journey all the more special. We can't wait to see what November has in store for us.
Contact Us
If you have any questions or need assistance, don't hesitate to reach out. You can contact us via email at hello@matthewjonesceramics.com, or use the online form here.
Stay connected with us on social media for the latest updates and inspiration on Instagram.
As the leaves change and the air gets crisp, our studio is buzzing with the warmth of creativity. Thank you for being part of this wonderful journey with us. Let's look forward to creating more art and memories together in the coming month.