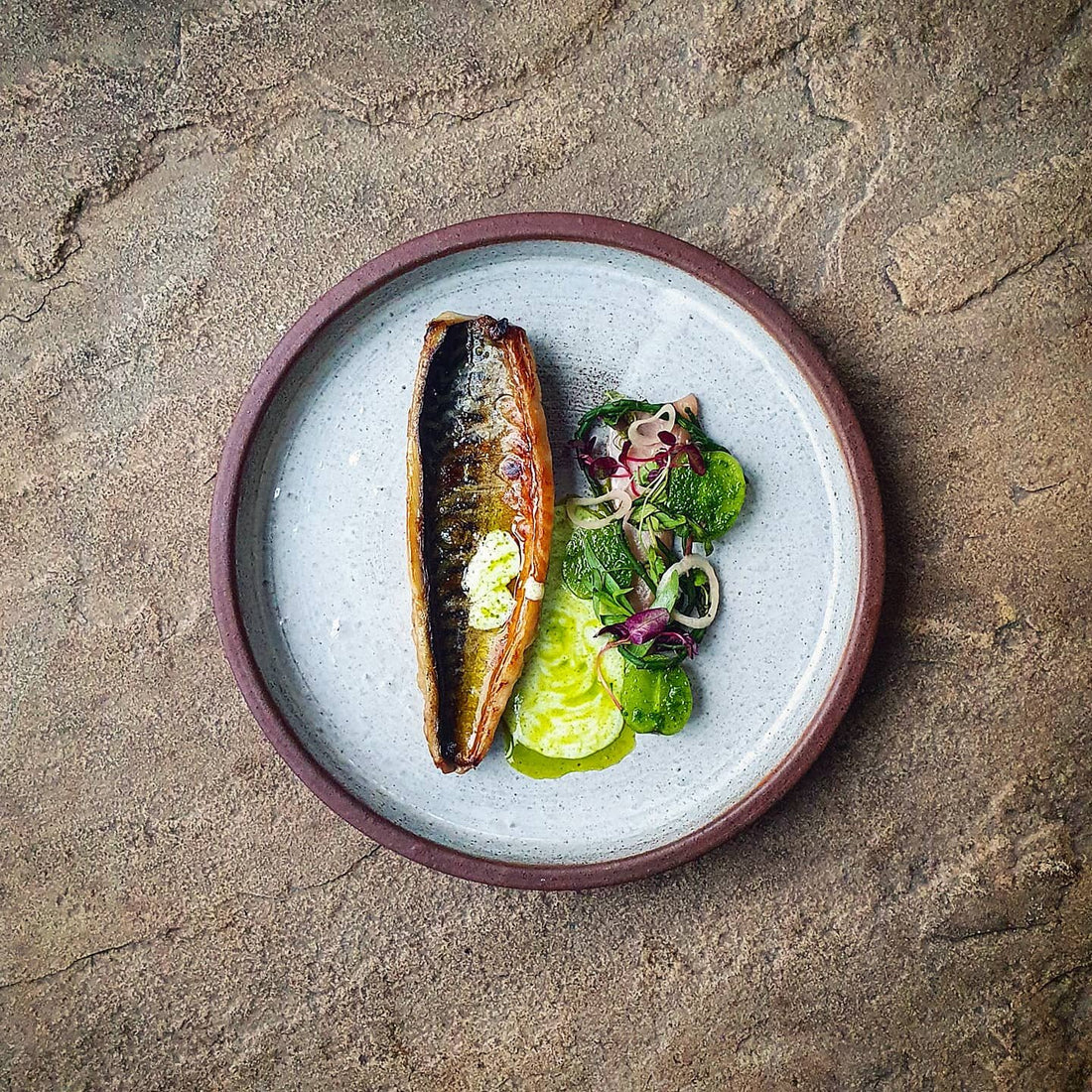 Simmie's Recipes: Smoked Mackerel with Salad
Smoked Mackerel
There are a lot of good fish in the sea, but one hardly ever appeals to me as much as mackerel. The versatility never ceases to amaze me; the beautiful pink flesh and silver skin being divine, no matter if it's cooked or raw. I chose to cure, smoke and cook this one as I'd frozen it for a few days, but usually I love my mackerel raw.
It is a damn shame that I didn't have my blowtorch to hand, as torched mackerel is something special. This was inspired by numerous, countless mackerel dishes I've seen over the years and will be a work in progress. The first result was so delicious that I couldn't resist sharing it with you all!
The finished dish was quite delicious, the buttermilk sauce tied everything together perfectly while the salad provided the much-needed piquancy to offset that beautiful, rich oily fish. The next time I do this, I'll definitely be either searing it or blowtorching it. I found the mackerel belly to be so very tender, and especially loved how it went with the samphire and pickled grapes.
I chose this plate by Matt as I love the slight contrast between the pared-back colours of the plate in comparison to the vibrant greens of this dish. This is easily one of my favourite plates (though not my number one fave) just for how it makes any meal look effortlessly beautiful. If only I could find something like that for my face!
It's been quite a week for me in work, I'm always astounded that I'm on the same team as these other incredible chefs and we've just finished our busiest week since opening. There have definitely been some pitfalls, and I'm not ashamed to admit that I'm probably the weakest chef they have, but I genuinely think that some of the mistakes are worth making due to the incredible amount of learning that follows. It's so good to be in a kitchen where I can unlearn bad habits.
This is the first recipe I've ever given out publicly, so any feedback is welcome. A lot of what I do is by eye and taste, so these recipes do rely on a certain amount of kitchen "common sense".
I hope you guys enjoy making this or any one of the components!
Until next time,
Chef Simmie
@Simmie_V
To check out what plates are currently available click here.
Recipe (Makes 2)
Ingredients
MACKEREL FILLET
2 mackerel fillets, pin-boned
For the cure
60g sugar
60g salt
60g chives
5ml Monkey Shoulder whiskey
MACKEREL BELLY
2 belly strips
2g salt
15ml herb oil
HERB OIL
Reserve herb mulch
60g chives
30g parsley
10g tarragon
10g mint
150ml neutral oil (I use rapeseed)
PICKLED GRAPES
1 small bunch grapes, halved
For the pickling liquor
100ml white wine vinegar
150ml golden caster sugar
150ml water
1 strip orange peel
SALAD
75g samphire, blanched
50g any soft mixed herbs or mixed micro herbs (if available)
50g pickled shallots
20g capers, chopped
Cracked black pepper (to taste)
BUTTERMILK DRESSING
300ml buttermilk
1 lime, zested but not juiced
Salt (to taste)
Ground white pepper (to taste)
Method
Before you begin, make your pickling liquor by heating through the liquor ingredients just until the sugar has fully dissolved and the mix looks glossy but do not let it boil. Let your liquor cool before adding your grape halves, pickle for as long as possible but minimum 1 hour. Toss them in the leftover mulch from your herb oil just before serving.

Preheat your grill/broiler to its highest setting.

If buying your mackerel whole, remove the fillets from the fish, pin-bone and score the skin. Ask your fishmonger to do this for you if you aren't confident.

Blend cure ingredients for the fillets until it has the consistency of wet sand. Remove from blender, spread a layer out onto a plate and place the mackerel on top, flesh side down. Cover the fillets with the remaining cure mix. Leave for 20minutes. After 20minutes, wash cure off thoroughly and set aside until time to cook.

Blend herb oil ingredients until colour turns to a dark green and mixture feels warm. Pass through a sieve lined with a J-cloth or kitchen roll.

Cure mackerel belly strips in the salt for 30 minutes, add the herb oil after 10 minutes

Mix all ingredients for the salad in a bowl, taste and season with cracked black pepper.

Make the buttermilk dressing by combining all ingredients and transferring to a pouring pot with a little of the herb oil to create that split effect.

Finally, either blowtorch the skin of your mackerel (recommended) or do as I did in the images and hold the mackerel under the grill for up to three minutes. I would also recommend pan-frying it in a very hot pan, skin-side down. Let rest for a minute or so.

Plate up & eat!