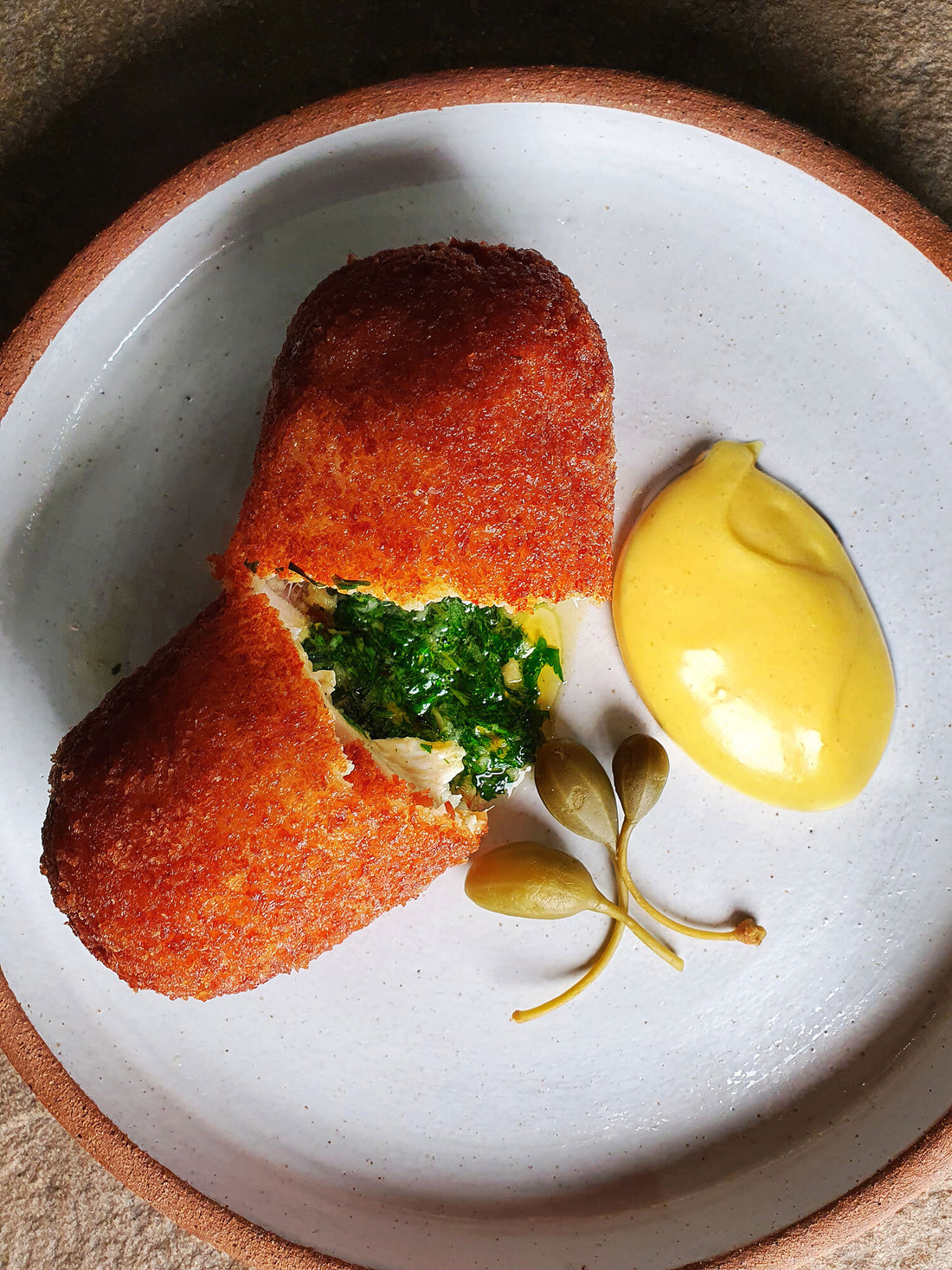 Simmie's Recipes: Tarragon Chicken Kiev with Truffle Mayo and Caper Berries
Mental Health and Chicken for the Soul
WELL…
We're back after a rather different Christmas and New Year. Matt, Rob and I are excited for what this year promises to bring us!
I'm going to take this opportunity to talk a little about mental health, given that I think most of us have either had ours exacerbated or developed new symptoms. I'll also be trying to convince you that a comforting Chicken Kiev recipe will heal all your woes… I mean, it probably won't but you will enjoy it, I hope!
So today, I nearly sobbed over the rollout of the Oxford vaccine. It took me by complete surprise; it was the first time I had let myself think about the long-term effects of this pandemic on mental health. I was emotional because it was a sign of hope for us, a sign that I might be able to just see my grandparents soon, maybe even hug them. The emotion was more than just elation, though, it was raw; like an eruption of every thought and feeling I'd had in the past year. Perhaps, when you're living through a crisis, you're too busy living through it to process the impact of it. That's what I think has happened to a lot of us.
Now, a disclaimer, I'm not qualified to talk about mental health from a professional standpoint. So I will talk about my feelings and hope that at least a few of you can relate.
Can I say I was relieved when we were locked down in March? I'd been working flat out all year, hadn't taken even one day of holiday and was told to take my two weeks in one go by my boss, because Covid had already started to affect the business. I went onto furlough time with so much energy. I'd been working so hard with actual work (willingly, with no regrets because I love what I do) and learning so many new things that a lot of my projects had fallen by the wayside. So lockdown was my time to essentially have this big, cathartic release of all the ideas and creativity that I had pent up.
I hadn't expected that my mental health would suffer. I'm quite introverted and spend a lot of my time at home/only seeing my closest friends anyway so it never occurred to me that nearly a year down the line, I'd be here. It's not easy to open up about these things, but my familial relationships leave a lot to be desired now. It makes being creative hard, when you're living in this… atmosphere. The thoughts of not wanting to exist are normal to me, having had them since I was a child, but the intensity of those thoughts and the sheer logic that supports them is so strong now. Fortunately, I have my cat, and as long as she needs me, I'm not going anywhere.
Comfort Food for the Soul
A week or so ago, on a particularly bad mental health day, I just wanted pure comfort. A few cooking pals of mine had been doing their takes on chicken kievs, and this inspired me to make my own. I think we can all safely say that we've been disappointed by a (usually ready-made) chicken kiev before. Too few herbs, not enough butter or it all leaks out before you can shove it in your face. Well, hopefully this kiev is different and that the recipe lives up to the photos.
The eating of this resulted in a moment of peace between me and my father; anyone who knows me well knows how close I am to him but this lockdown has even frayed tensions between him and I. Having him eat and appreciate my food for the first time in a long time was special to me. It was bloody delicious, and good food never fails to bring people even just a moment of contentment.
So, ladies and gents, without further ado, here is my recipe for your very own comforting, healing, truly delicious Chicken and Tarragon Kiev.
This is my second recipe on Matthew Jones Ceramics, tell me what you think in the comments. A lot of what I do is by eye and taste, so these recipes do rely on a certain amount of kitchen "common sense". My fist recipe was Smoked Mackerel with Salad which you can read here.
I hope you guys enjoy making this or any one of the components!
Until next time,
Chef Simmie
@Simmie_V
To check out what plates are currently available click here.
Recipe (Serves 2)
Equipment
Cling film

Sharp knife

Zester/Microplane

Deep fat fryer/small wok/safe saucepan for hot oil

Temperature probe (not essential)

Hand whisk/blender/stand mixer with whisk attachment (essential if you're making your mayo)

Baking tray
Notes on the Recipe
Herbs and seasonings in the flour can be changed to your tastes, just keep the same measurements
The caper berries are important as they give some acidity to this otherwise rich dish. If you don't have any to hand or don't like them, I'd recommend replacing with another pickle of your choice.
You don't *have* to make the mayo from scratch. If using a premade mayo, choose a high-quality one and add in some truffle oil to suit your tastes.
If using panko breadcrumbs, they would benefit from a bit of a crush in your hands before breading the chicken
A ballotine is a way of rolling the chicken into a log, using clingfilm. In this case I find it helps keep the butter in and also helps towards clean presentation. It's necessary for this dish and quite a fun skill to learn so I hope you all have a go!
Ingredients
Prep time: 1 hour (plus 4hrs for butter to freeze)
Cook time: 20min
CHICKEN KIEV
2 chicken breasts, butterflied
Compound butter
125g unsalted butter, softened
30g tarragon, picked and finely chopped
10g parsley, picked and finely chopped
2-3 garlic cloves, grated
½ tsp ground white pepper
Zest of 1 lemon
Salt, to taste
PANÉ MIX (BREADCRUMB COATING)
In separate bowls, prepare:
Flour
125g flour
1 tbsp salt
1 tbsp onion powder
1 tbsp garlic powder
1 tbsp ground white pepper
1 tsp paprika
½ tsp celery salt 
Eggs
2 large, whole eggs
1 heaped tsp dijon mustard
Breadcrumbs
150g panko breadcrumbs OR toasted/stale bread blended into crumbs
TRUFFLE MAYO
3 egg yolks
50g dijon mustard
10ml tarragon vinegar (can be substituted for white wine vinegar or cider vinegar)
400ml neutral oil (preferably rapeseed)
60ml truffle oil
Salt, to taste
FOR FRYING
600ml oil, heated to 180°c
Method
Preheat oven to 180°c fan/200°c/gas mark 4
Start by making your compound butter, as this will need to freeze solid. Mix all your prepared ingredients with the butter, lay out onto a square of cling film and roll into a log shape. Set in the freezer for around 4hrs or until the butter has frozen.

Next, butterfly your chicken breasts and tenderise them slightly by putting them between two sheets of cling film on a flat surface and bashing them with a rolling pin. Once a little flat (not too much, we aren't making schnitzel) cut rounds off the frozen butter and wrap the chicken around it. Ensure the chicken is wrapped around the butter well, then roll it into a ballotine-style log. Set aside in the freezer to firm up while you make the mayo.

To make your mayo, whisk together your egg yolks and mustard with your hand blender/stand mixer on a high speed until it thickens slightly. Start adding oil into the mix slowly, and it should emulsify. Once emulsified, whisk in the truffle oil, tarragon vinegar and season to taste.

Retrieve your kiev from the freezer and unwrap from the cling film. Roll it in the seasoned flour, then the egg mix, then breadcrumbs. Leave to set for five mins, then repeat egg and breadcrumbs, roll into a ballotine once again and set in the fridge for ten minutes.

Heat a deep fat fryer or wok of oil to 180°c. Remove all cling film from the breaded chicken and place gently in the oil. Use a spider (a mesh spoon) or slotted spoon to aid you if you are using a wok. The breadcrumbs should colour fairly quickly, within three minutes or so.

Remove from the oil when a deep golden brown all over, place on a baking tray and transfer into the hot oven for ten minutes.

Once time is up and the kiev is out of the oven, serve immediately with the truffle mayo and caper berries.