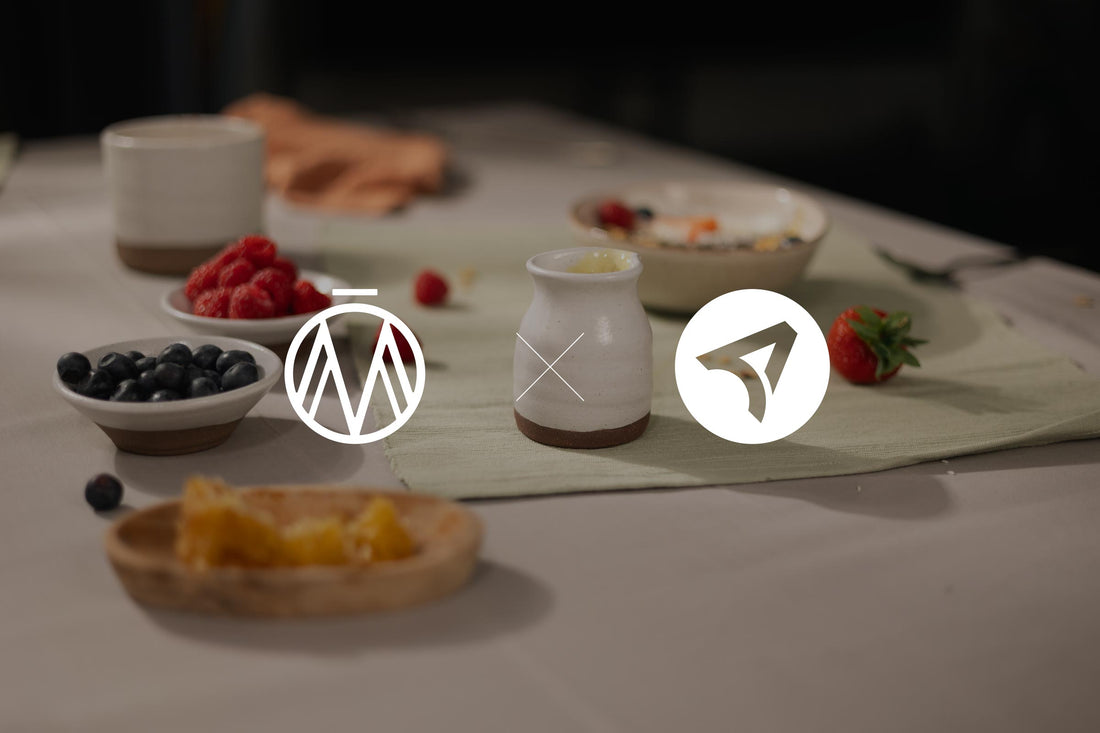 Unveiling Creativity: A Captivating Collaboration with Aura Ads
In the world of creative collaborations, serendipity often plays a remarkable role.
Such was the case when I crossed paths with Milly, the Operations Manager at Aura Ads, during one of our Pottery Masterclasses. Little did I know that this chance meeting would lead to an artistic journey that would bring our creations to life in a way I had never imagined.
Aura Ads, a full-service performance creative agency based in Cardiff, specializes in e-commerce branding and food styling. Here's the story of how our recent collaboration with them unfolded, resulting in a stunning collection of behind-the-scenes photographs that showcase our work in a whole new light.
Delicious food - the perfect accompaniment to our beautiful ceramics…
Crafting a Vision
As Milly and I worked side by side, crafting pottery on the wheel, it became evident that our creative visions were perfectly aligned. The idea of a collaboration took root as we exchanged ideas and brainstormed ways to capture the essence of our artistry in a unique and captivating manner.
We soon decided to embark on a project that would capture behind-the-scenes shots of our pottery in use, with a focus on food styling—an endeavor that perfectly complemented the services offered by Aura Ads.
Behind the Lens
With the collaboration in full swing, the responsibility of translating our ideas into stunning visuals fell into the capable hands of Margaux, the Videographer and Photographer at Aura Ads. Margaux's skillful use of equipment, innovative lighting techniques, and strategic approaches brought our vision to life.
The resulting images offer a captivating glimpse into the meticulous process of styling and integrating our pottery into a dynamic food-centric campaign.
Photographer Margaux setting the tablescape
A Showcase of Excellence
The significance of having our work showcased by the renowned agency, Aura Ads, cannot be overstated. The exposure we gained has been profoundly positive, not only for our brand but also for my personal creative journey as a maker. It's inspiring to witness our creations through the lens of experts who share our dedication to visual storytelling and creative expression.

Close-up of a vintage white jug - coming soon online.
A Creative Journey Unveiled
As our collaboration with Aura Ads continues to evolve, I eagerly anticipate the new artistic horizons it will lead us to. The experience has not only expanded our creative horizons but also forged lasting connections with fellow creatives who share our passion.

A creative use of our vintage white dip dishes - available here
Discover Our Collaboration
If you'd like to explore the pieces featured in our collaboration with Aura Ads, we invite you to visit our shop. Please note that these items are in limited supply, so be sure to head over to our shop for an up-close look at the results of this exciting collaboration.

In the world of creativity and collaboration, there are no limits to what can be achieved when visionary minds converge.
Our journey with Aura Ads has been a testament to the power of creative synergy, and we can't wait to see where it takes us next. Thank you for joining us on this exhilarating ride through the world of art, style, and innovation.