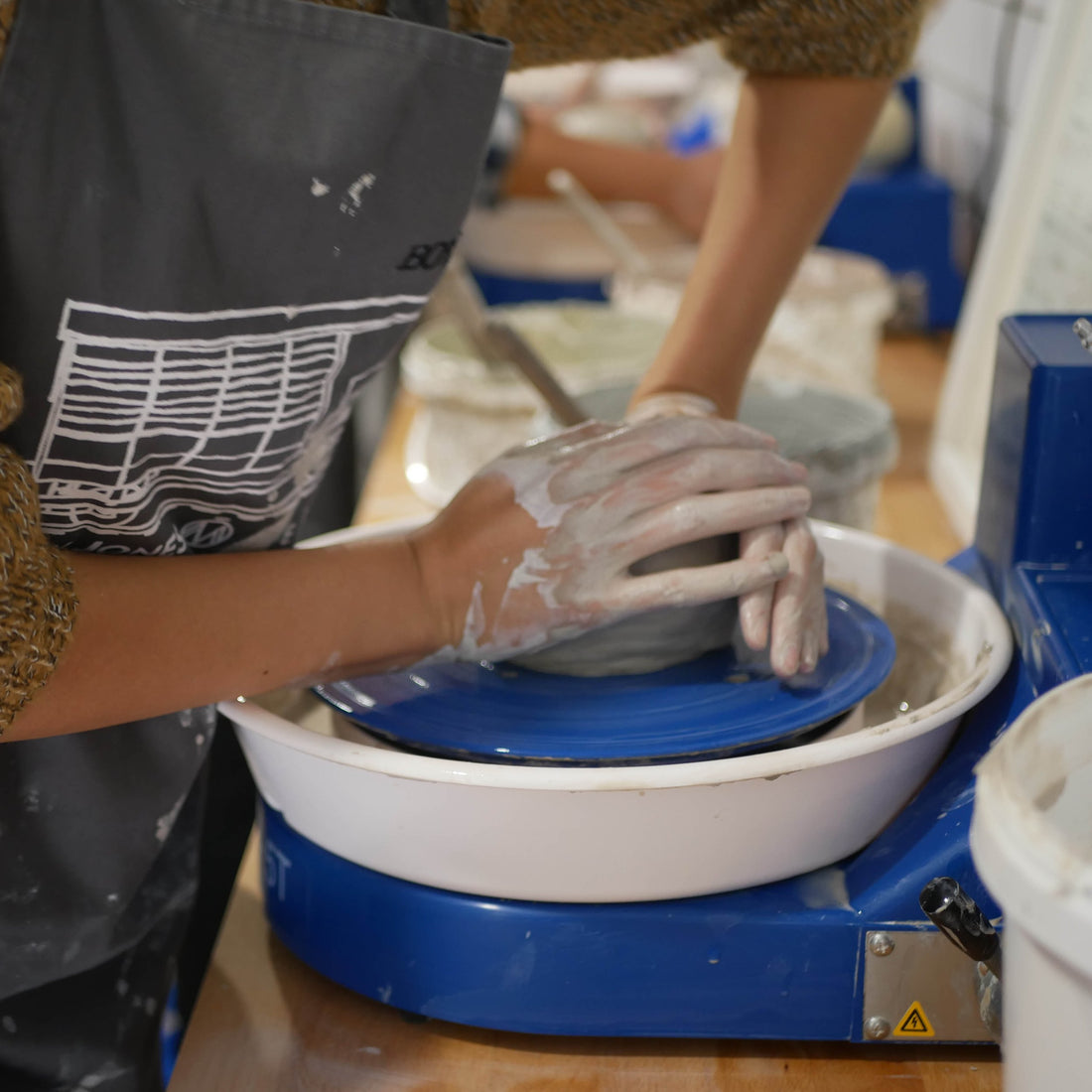 What's in a Workshop?
A question we get asked a lot here at MJC is; What should I expect from my Pottery Masterclass? Here is our answer.
We currently host our Masterclasses on Wednesdays and Saturdays, up to three sessions each day, 10:00-12:00, 12:30-14:30 and 15:00-17:00. Our morning starts out here at The Goodsheds in The Toad. Opening up our repurposed old train carriage, putting the heating on and prepping our small studio for the day.
We check our itinerary for the day, our most popular class that is sold is for sure our Masterclass for Two so we go ahead and get an apron (thanks to our friends at Print Haus) and begin to weigh out some clay. We can host 1 on 1 sessions or up to 4 people at a time, enough clay and aprons to go around.
Now we wait. Usually we welcome our students pretty much as soon as we are open, everyone is always very excited to get started! We have a little chat while they are welcome to browse are shop that's filled with MJC goodies, getting inspiration for their own pieces or deciding what they want to take home from our shelves.
Everyone gets ready to begin, aprons on, sleeves up!
We usually start out with a demo. Matt shares his top tips and secrets of throwing and how to do it, mesmerising. Now its your turn, starting with about 500g of clay, have your first attempt at making something yourself, you can make whatever you'd like! People usually go for a mug or a small jug for their first piece.
We are there the whole time to step in if needed and just generally guide you through it, before long your piece has grown and formed right in front of you! Once you are happy with your first piece, its time to colour it. We use pigmented slip in a range of colours that you can use to create something really unique. Some of our favourites include blending two colours together, we think it looks great.
Moving on to the second, larger amount of clay. You have found your feet with it, getting a better understanding of how the clay handles and what to do to shape it. Building your second piece on the wheel is where you really come into your own.
Our Masterclasses are designed to offer the perfect taster for throwing clay. At 2 Hours long, they are a great activity for a morning or afternoon with other crafty people in your life without the commitment of a weekly class. They can be tailored to suit all skill levels, be it an introduction for your first time or alternatively a chance to test out some new ideas if you are an experienced potter.
Coming to the end of your two hour session, you'll have made usually 3 pieces, depending on what time is left sometimes 4. Painted with your own designs and ready to dry out on our shelves. We pack up your pieces and transport them to our other studio up in Blackwood where your work will then be bisque fired, then glazed with a clear glaze and fired again. Firing takes a minimum of three days, the kilns get to a whopping 12600 degrees DO THEY? and that along with our own studio work, turn around is usually 4-6 weeks, that can vary, we try our best for the quickest and most efficient turn around for you.
Here's a stack of finished pieces made in one of our Masterclasses waiting to be taken home.
A rare snap of our Blackwood studio, constantly moving around with shelves full of pieces of work at all different stages. Here is where everything gets fired in one of our two kilns.
Then we send out the long awaited, very exciting email to say your work is at our studio and waiting for you to be picked up! We bring the finished work back on down to our Barry studio where we are open Wednesdays to Sundays 11-4pm and our customers are always so surprised and happy with what they have created.
We carefully wrap up your work and bundle it into our custom printed tote bags, another shout out to PrintHaus.
And that is the end. Or is it? There's no limit to how many Masterclasses you can attend with us, we hope this marks only the beginning of your love of pottery.