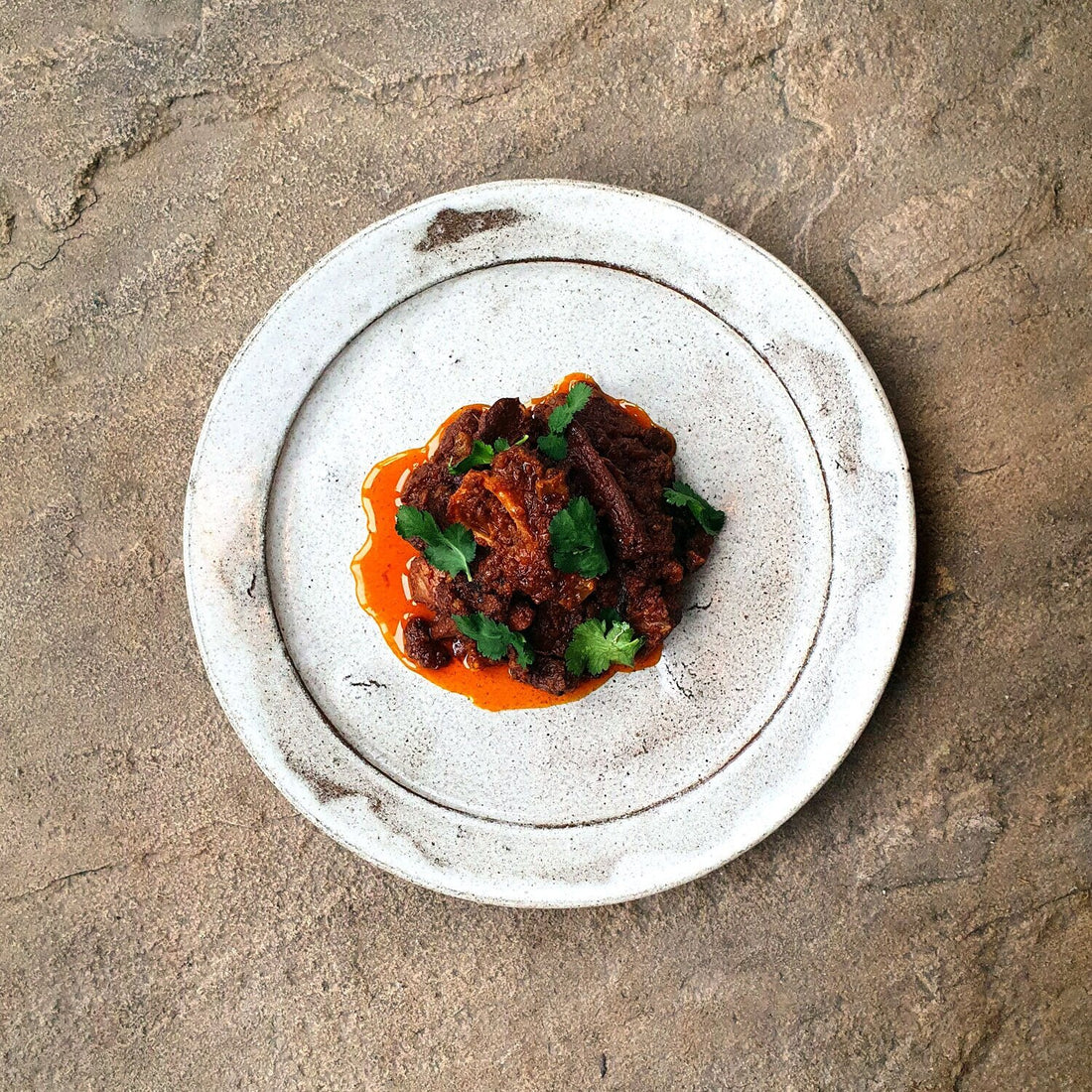 Simmie's Recipes: Slow Cooked Goat Curry
A Goat Curry Recipe that Even Your Cat will Love
Happy February, girls and boys!
It's a bit like January, only not as long. It's been interesting trying to keep occupied, especially when all my brain wants to do is be off with the fairies. Of course, none of this ties into the dish I'm presenting to you lot, but who am I to break with the tradition of food blogs everywhere? You must read my prattling before I bless you with a recipe.
Today's culinary adventure will take us to North India, without the risk of a £10k fine for flying. My family hails from Punjab, so all our food is very savoury, rich and spicy. And that's everything a goat curry is. NOT to be confused with curry goat, which is decidedly Caribbean and not at all what this is. This… this is definitely Indian, with the layers of spices, our "holy trinity" of ginger, garlic and chillies.
When it comes to curry "names" (rogan gosht, tikka, korma, etc), I have absolutely no idea what they all are, though I can probably guess some. What I'm trying to say is that being taught Indian cooking at home means I just know how my dad, my naniji and dadiji (grandmothers) made things. They never really bothered much with names, just bloody good food. 
Goat curry is my "last supper" dish. Goat meat is something my dad and I absolutely adore and I think we bonded over this mutual love when I was very young. It's a little more delicately flavoured than lamb and my favourite meat to braise.
I want to keep this short today, because this recipe and the results of it speak for themselves. Get making this. It might look scary to some because of the amount of spices, but trust me when I say they work in harmony.
As always, tag me if you make this! Toodles
This is my third recipe on Matthew Jones Ceramics, tell me what you think in the comments. A lot of what I do is by eye and taste, so these recipes do rely on a certain amount of kitchen "common sense". My second recipe was my Tarragon Chicken Kiev which you can read here.
I hope you guys enjoy making this or any one of the components!
Until next time,
Chef Simmie
@Simmie_V
To check out what plates are currently available click here.
Recipe (Serves 4-6)
Equipment
Heavy-bottomed casserole pot

Good knife

Blender/food processor
Notes on the Recipe
Yes, you can use lamb if you can't find goat meat.

You can marinate your meat overnight in the same ground spices used in the recipe. Do NOT use yoghurt as this will change the dish completely. I don't think the dish needs the meat to be marinated overnight but I know some of you will be wondering!

My garam masala is made by my naniji in London, the one closest to her mix is TRS Garam Masala, which you should be able to find in most supermarkets. Alternatively, please have a go at making your own, it's really satisfying.

This is loosely based on how I was taught to make curry by my dad. I've had to make changes and tweaks as we guard our family secrets, from method to the recipe.

No, I don't remove the whole spices. This is traditional in the way that the whole spices are left in, whole. If you have an aversion to this, with all respect... choose another curry recipe. This isn't a recipe where you can grind all the spices and end up with the same result.
Ingredients
Prep time: 30 mins
Cook time: 4-5 hours
Slow Cooked Goat Curry
1.5kg diced goat with bones
Note: I've used 1kg of diced ex-dairy goat meat and 500g goat neck fillet from Cabrito Goat Meat (@cabritogoatmeat). They deliver nationwide to the UK.
1 ½ medium brown onion, blitzed into a paste
6 cloves garlic, minced
25g ginger, grated
1-2 bird's eye chillies, finely chopped
2 tbsp tomato paste
1 can tinned tomatoes, blended and topped up with 250ml water.
Salt, to taste.
Small bunch coriander to garnish & mix through at the end of cooking.
Whole spices
1" cinnamon stick
1 dried Kashmiri chilli
2 cloves
1 tsp black mustard seeds
1tsp fennel seeds
1tsp black peppercorns
1 tsp coriander seeds
½ star anise
3 cardamom pods
Ground spices
1 ½ tsp turmeric
1 ½ tsp garam masala
1 ½ tsp cumin
½ tsp fenugreek
Method
Preheat the oven to 140°C
Set a heavy-bottomed casserole dish over a medium heat. Add 1 tbsp oil and 2 tbsp salted butter, then add in the whole spices. Let these cook over a low/medium heat until the mustard seeds start to pop.

Add in the onions. Keeping with a medium heat, cook the onions until they almost start to colour and some of the moisture has evaporated.

Mix in the ginger, garlic and chillies in one go. Sweat this down with the onions for 10mins on a low/medium heat until it comes together as a paste. Add some water and cook out if you want to. Don't worry too much about the paste catching, it adds flavour and should come off when you add the tinned tomatoes.

Add the ground spices and tomato paste. Cook these out on a medium heat for five minutes, stirring constantly.

Pour in the blended tomatoes. Reduce by around ¼ on a high heat. Stir with spatula to avoid it catching on the bottom. The tomatoes can spit a bit so be careful! Season and taste. Add a little salt at a time and keep tasting.

Add your diced goat and stir well. Browning prior to adding it in is optional, I don't find it adds anything extra to this dish as it's being braised for so long anyway.

Place a lid on your pot and transfer to the oven for 4-5hrs.

Check after 2hrs, taste and adjust seasoning if needed.

Remove from oven and let rest for about 15mins before tucking in. Serve with cumin and lemon rice, garlic and coriander naan or whatever you want! I ended up mopping up the dregs with some ciabatta, so anything goes!